All-new 2017

• Large volume front, central, and rear differentials for improved long run performance and reduced internal heat build up
• Stronger 2.5mm diff pins in all differential outdrives
• Longer front, central and rear internal cross diff pins
• Improved internal diff gears with re-profiled teeth for reduced friction and smooth operation
• All-new lightweight machined diff outdrives
• All-new profile 46T lightweight Hudy Steel central diff gear
• All-new larger rubber-sealed center differential housing
• New differential gaskets
• Front trailing steering blocks give increased forward traction and better handling
• Improved geometry steering block Ackermann plates
• New graphite material servo saver for increased reliability and smooth operation
• Composite front upper top deck for added flex & increased steering
• Improved alu steering posts to accommodate new front upper plate
• Redesigned steering pivot balls to eliminate wheel locking
• Redesigned brake cam
• Narrow profile front suspension arms move the front wheels forward for improved take-off and landing on jumps
• Longer rear suspension arms for better handling, stability and increased traction
• Short alu rear suspension holders for new geometry
• Improved weight distribution and balance for increased traction
• All-new chassis flex adjustments using optional graphite stiffeners on the chassis guards
• Hard alu clutch shoes for smoother engagement
Gear Differential.
The all-new, high-volume differentials were redesigned to increase diff reliability and performance. Differentials feature higher oil volume capacity cases, and all-new larger internal gears with more teeth for improved differential moment. The larger volume of the differential and the shape of the gear teeth reduce oil overheating. To increase reliability, diff pins have a new, stronger design.
The new differentials give increased traction and reliability, especially in long runs.
Internal Diff Gears.
All-new internal diff gears were created to increase differential reliability and reduce diff oil overheating. The new 20T and 10T gears have a larger size and a greater number of teeth to ensure more precise fitment and engagement.
Pressed-steel differential bevel and satellite gears are heat-treated and machined for superior precision and smooth operation.
Diff Outdrives.
Updated diff outdrives were created to accommodate the new stronger diff pins. The front longer diff outdrive adapters ensure that the drive shafts will not fall out in extreme crashes at full steering lock.
To reduce rotating weight, the super-lightweight diff outdrives are machined from HUDY Spring Steel™ which allows unnecessary material to be removed to further reduce weight without affecting durability. The inner portions of the outdrives are additionally hand-ground for maximum precision and fitment into the diff case.
All outdrives are hardened using HUDY's own special hardening process for extended lifespan and reliability.
Central Diff Gear.
The central differential has an all-new extra-large design for increased reliability and performance. The new differential is over 5mm larger, with a larger oil capacity to reduce oil overheating in long runs, helping to keep differential performance as consistent as possible.
The central diff gears were updated to accommodate the new larger center diff housing.
Steering Blocks.
New trailing-axle steering blocks offer a significant handling improvement in all track conditions, making the car easier to drive and giving increased forward traction.
The smart design of the steering block allows one steering block to be used either on left or right side for easy servicing.
The steering blocks feature the following integrated geometry adjustments:
• camber
• caster
• bump steer
• track-width
Steering Plates.
All-new steering plates change the front suspension geometry and thus change steering characteristics as well. The new updated geometry results into more linear and precise steering, making the XB8 more predictable and easier to drive.
Servo Saver.
To increase servo saver reliability, especially in dusty conditions, the all-new servo saver is moulded from new graphite material which is more resistant and efficient in dusty conditions.
The dual-arm steering system is simple yet effective, featuring an integrated easily-adjustable servo saver and Swiss 7075 T6 aluminum steering plate.
Ackermann is easily adjusted by quickly & easily changing steering link mounting positions on the steering plate.
Bump steer is easily adjusted by inserting shims between the steering plate and steering linkage.
Upper Deck.
The front upper deck is now made of molded composite material to improve flex which results in increased traction and improved steering characteristics.
Ball Studs.
New-design ball studs eliminate steering lock and allow greater steering radius.
Suspension Arms.
All-new longer rear arms make the car easier to drive in most track conditions. The new rear arms also give flex to help generate more traction and give better handling.
All-new, narrower front lower arms move the arms more frontwards, resulting in improved weight balance.
XB8 suspension arms are the result of long-term testing of different designs and layouts. Length, thickness, flexibility, geometry, and materials used… these are all part of the concepts and details that are thoroughly reviewed to create optimum suspension arms. The suspension arm itself is rigid enough to provide a responsive feel, yet soft enough for extreme durability. The exclusive composite mixtures used for suspension arms offer a perfect balance between reliability & performance.
I.S.S.™ Suspension Holders.
To accommodate the longer rear suspension arms, narrower aluminum suspension holders are used.
The aluminum suspension holders feature Integrated Suspension Settings™ (I.S.S.) which allows for quick & easy suspension geometry setting.
Using eccentric suspension bushings inserted into aluminum suspension holders – as well as additional suspension shims – the XB8 suspension geometry can be completely adjusted in mere seconds.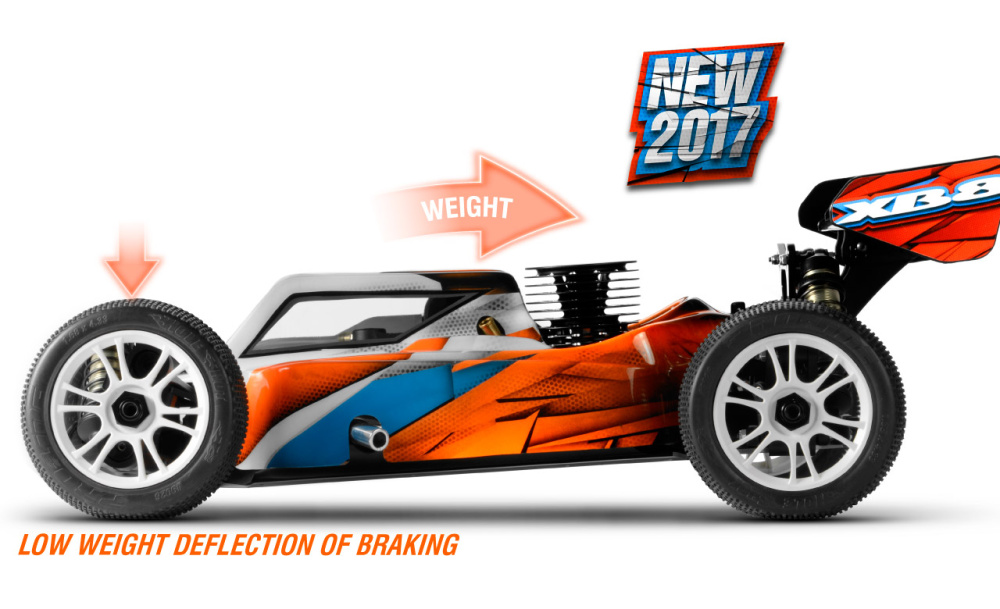 Weight Balance.
An all-new, improved weight balance was created by moving the front lower suspension arms more frontwards.
This new weight balance makes the car easier to drive, increases predictability, makes the car extremely resistant in rough parts of the tracks, and gives great handling in jumps and fast parts of the track.
High-torque Clutch.
The all-new hard alu clutch shoes allow for smoother engagement. The Swiss 7075 T6 clutch shoes are small, lightweight, and designed for engagement during the entire travel of the shoe. The shoes are less sensitive to wear and give improved lifespan.
The high-torque clutch provides smooth, continuous power transfer from the engine at high RPM. The clutch engages higher in the RPM range, resulting in more controllable power during acceleration, while still maintaining good handling and performance on jumps.
The Swiss 7075 T6 aluminum flywheel has a smaller diameter but heavier weight. The smaller diameter allows the flywheel to be more protected after landing large jumps, so there is a reduced chance of accidental engine stoppages.
The extra-tough flywheel nut is machined from Hudy Spring Steel™.
The clutch is equipped with soft clutch springs; optional medium and hard springs are also available.
Side Guard Braces.
All-new optional side guard braces allow for very efficient and easy chassis flex adjustment to adjust the handling of the car to different track conditions. By adding the graphite braces, the entire chassis is reinforced and stiffer flex will improve handling in high-traction conditions.
Kundenrezensionen
Leider sind noch keine Bewertungen vorhanden. Seien Sie der Erste, der das Produkt bewertet.
Sie müssen angemeldet sein um eine Bewertung abgeben zu können. Anmelden